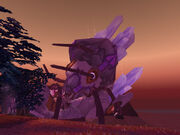 The Warp Piston [53, 20] is a fallen piece of the Exodar that crash-landed on Bloodmyst Isle. This area was also the location of the "sun portal" used by the followers of Kael'thas Sunstrider to assault the draenei positions and retake the Exodar; it was later moved to an area south of the Vector Coil. The area now teems with many voidwalkers that have been created when the Sun Gate was used.
Ad blocker interference detected!
Wikia is a free-to-use site that makes money from advertising. We have a modified experience for viewers using ad blockers

Wikia is not accessible if you've made further modifications. Remove the custom ad blocker rule(s) and the page will load as expected.