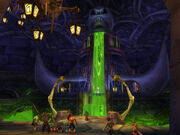 The War Quarter is located in the northwest corner of the Undercity. This is where the Forsaken military is based, and is also home to the city's priest and warrior guilds, as well as a few profession trainers.
The War Quarter contains an Altar of Darkness.[1][2]
Facilities:
References
Edit
Ad blocker interference detected!
Wikia is a free-to-use site that makes money from advertising. We have a modified experience for viewers using ad blockers

Wikia is not accessible if you've made further modifications. Remove the custom ad blocker rule(s) and the page will load as expected.