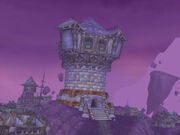 The Violet Tower is the central spire in Kirin'Var Village. Archmage Vargoth, leader of Kirin'Var, is trapped within. It is guarded by an arcane golem[1][2] named Ar'kelos and is also the spot where two friendly ghosts (Custodian Dieworth and Lieutenant-Sorcerer Morran) give out a series of quests.
A curse exists around the tower, "Curse of the Violet Tower", which reduces damage done by 50%.
References
Edit
Ad blocker interference detected!
Wikia is a free-to-use site that makes money from advertising. We have a modified experience for viewers using ad blockers

Wikia is not accessible if you've made further modifications. Remove the custom ad blocker rule(s) and the page will load as expected.