The Untamed Blade is a two-handed sword, which is great for warriors and paladins, that procs a powerful strength buff.
The Untamed Blade drops off Razorgore the Untamed, the first boss in Blackwing Lair.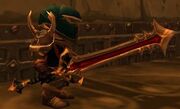 Drop rate is approximately 10%.
The Sword's proc chance is approximately lower than 7%.
The specific name for the proc effect of this Sword is Untamed Fury.
The Crusader weapon enchant stacks with the Untamed Fury buff from this sword.
Considered a preferred weapon by Two-handed Fury Warriors, along with Sulfuras, Hand of Ragnaros.
Patches and hotfixes
Edit

Patch 1.6.0 (12-Jul-2005): Added

External links
Edit
Ad blocker interference detected!
Wikia is a free-to-use site that makes money from advertising. We have a modified experience for viewers using ad blockers

Wikia is not accessible if you've made further modifications. Remove the custom ad blocker rule(s) and the page will load as expected.