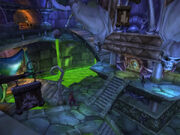 The Trade Quarter is the central area and hub of trade of the Undercity, located just beyond the lifts to the Ruins of Lordaeron. The center of the Quarter houses the bank, and most of the shops of the Undercity lie around the bank on a series of levels. All other parts of the city can be reached through this quarter via winding passages into the Canals. Under one of the bridges to the bank, you will find Jeremiah Payson the Cockroach Vendor.
Facilities:
Ad blocker interference detected!
Wikia is a free-to-use site that makes money from advertising. We have a modified experience for viewers using ad blockers

Wikia is not accessible if you've made further modifications. Remove the custom ad blocker rule(s) and the page will load as expected.