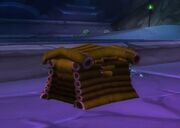 The Talon King's Coffer is located in the Halls of Mourning in Sethekk Halls, after the last boss.
Note that there have been reports of a bug preventing players from opening the Coffer when they defeat Talon King Ikiss too speedily. High level characters should attempt to prolong the fight to last at least one minute in order to ensure access to the Key.
External links
Edit
Ad blocker interference detected!
Wikia is a free-to-use site that makes money from advertising. We have a modified experience for viewers using ad blockers

Wikia is not accessible if you've made further modifications. Remove the custom ad blocker rule(s) and the page will load as expected.