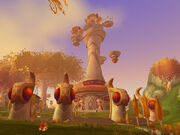 The Sunspire is a large blood elf tower on Sunstrider Isle surrounded by levitating satellite buildings. It is the first quest hub for beginning blood elf characters before they move onward into Quel'Thalas. It contains class trainers up to level six for all blood elf classes, excluding death knights of course. After finishing quests upon Sunstrider Isle, Lanthan Perilon sends you to Outrunner Alarion, and then to the Ruins of Silvermoon.
Ad blocker interference detected!
Wikia is a free-to-use site that makes money from advertising. We have a modified experience for viewers using ad blockers

Wikia is not accessible if you've made further modifications. Remove the custom ad blocker rule(s) and the page will load as expected.