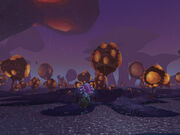 The Spawning Glen is located in deep southwestern Zangarmarsh. The sporelings, a race of sapient fungal creatures, have reared their young here for millenia. Recently however, the fungal giants have begun destroying and consuming the helpless young of Sporeggar. Players wishing to increase their reputation with Sporeggar can find ample opportunities here.
The Sporelings' Plight and Natural Enemies are both repeatable reputation quests with Sporeggar.
Ad blocker interference detected!
Wikia is a free-to-use site that makes money from advertising. We have a modified experience for viewers using ad blockers

Wikia is not accessible if you've made further modifications. Remove the custom ad blocker rule(s) and the page will load as expected.