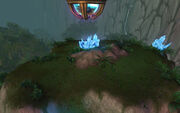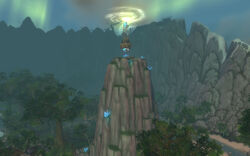 The Skyreach Pillar is a tall butte-like formation in southeast Sholazar Basin. It is very similar to the Glimmering Pillar, Mosslight Pillar, and Suntouched Pillar.

 Oracle Soo-nee wants adventurers to use the Didgeridoo of Contemplation atop this pillar as part of the

 [80Daily] Song of Reflection.

 High-Shaman Rakjak of the Frenzyheart Tribe wants help gathering
 [Skyreach Crystal Clusters] around the base and south of the pillar. To the northwest,

 Pitch can sometimes be found in the Wildgrowth Mangal stalking his prey.
Ad blocker interference detected!
Wikia is a free-to-use site that makes money from advertising. We have a modified experience for viewers using ad blockers

Wikia is not accessible if you've made further modifications. Remove the custom ad blocker rule(s) and the page will load as expected.