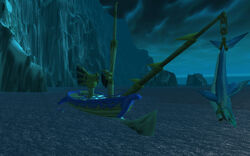 The Silver Blade is a Silver Covenant ship south of Hrothgar's Landing and west of The Crimson Dawn in the southern reaches of the Sea Reaver's Run. It is manned by Silver Blade Sailors who have killed a few North Sea Sharks.
It carries Buckets of Fresh Chum for use by members of the Alliance in the quest

 [80] What Do You Feed a Yeti, Anyway? (Alliance)
Ad blocker interference detected!
Wikia is a free-to-use site that makes money from advertising. We have a modified experience for viewers using ad blockers

Wikia is not accessible if you've made further modifications. Remove the custom ad blocker rule(s) and the page will load as expected.