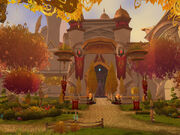 The Shepherd's Gate serves as the main entry into Silvermoon from Eversong Woods.
The entrance to the Sunwell Plateau in the Isle of Quel'Danas is also called The Shepherd's Gate.
It is not the original entrance to the city. Remnants of the original entry can be seen down the Dead Scar, and a large, sealed gate in the Bazaar blocks the path. This area remains inaccessible.
Ad blocker interference detected!
Wikia is a free-to-use site that makes money from advertising. We have a modified experience for viewers using ad blockers

Wikia is not accessible if you've made further modifications. Remove the custom ad blocker rule(s) and the page will load as expected.