Ad blocker interference detected!
Wikia is a free-to-use site that makes money from advertising. We have a modified experience for viewers using ad blockers

Wikia is not accessible if you've made further modifications. Remove the custom ad blocker rule(s) and the page will load as expected.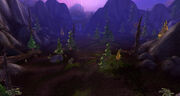 The Regrowth is phased into after completing a series of quests. This area replaces The Inferno and The Flamewake in Mount Hyjal. During the Firelands Invasion, the forces of Ragnaros seek to destroy what life has sprung back. Two groups of NPCs patrol the area, specifically to the south near the Sanctuary of Malorne and the road winding near Ashen Lake. Players may recognize the latter group if they have ever played a druid and required training.
Inhabitants
Edit
Quest givers
Patrol (lake, during Firelands Invasion)
Patrol (south, during Firelands Invasion)
Mobs (south, during Firelands Invasion)
Mobs (north, during Firelands Invasion)
Mobs (road near Ashen Lake, during Firelands Invasion)
Patch changes
Edit
External links
Edit