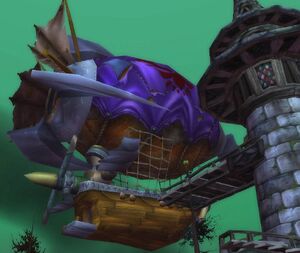 The Purple Princess is a zeppelin, with a goblin crew and troll guards, which runs between Brill in Tirisfal Glades and Grom'gol Base Camp in Stranglethorn Vale.
Inspiration
Edit
This is a possible reference to Phoenix Wright Ace Attorney: Justice For All, in which a director comes up with a quick idea for a new television show: The Pink Princess.
Patches and hotfixes
Edit

/

Patch 3.0.2 (14-Oct-2008): The crew has returned.


 Hotfix (2007-12-06): Crew removed, due to problems.


Patch 2.3.0 (13-Nov-2007): A crew was added.