The Planar Edge

Item Level

100

Speed 2.70
159 - 296 Damage
(84.3 damage per second)
Durability 105 / 105
Requires level 70
Requires Master Axesmith
Equip: Improves critical strike rating by 20.
Equip: Increases attack power by 42.
The Planar Edge
is a main-hand specialty axe made by Master Axesmiths who are the only ones who can wield it. It gives a bonus to critical strike rating and attack power.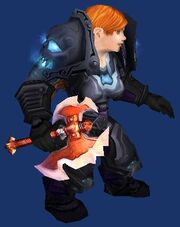 This item is crafted by Blacksmiths with a skill level of 350 who also have the Axesmith specialty.
The plans are taught by the Master Weaponsmiths in various cities.
The Planar Edge as an ingredient
Edit
External links
Edit
Ad blocker interference detected!
Wikia is a free-to-use site that makes money from advertising. We have a modified experience for viewers using ad blockers

Wikia is not accessible if you've made further modifications. Remove the custom ad blocker rule(s) and the page will load as expected.