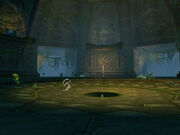 The Pit of Sacrifice is located inside Temple of Atal'Hakkar. It is accessed by going up the stairs through the leftmost doorway from the instance portal. It is full of dragonspawn and dragon whelps, which must all be killed if one is to face Shade of Eranikus. Along the room are six ledges with the mini-bosses Gasher, Hukku, Loro, Mijan, Zolo, and Zul'Lor, all of whom must be killed in order to face Jammal'an, whom must be killed in order to make Shade of Eranikus attackable.
The Pit of Sacrifice contains a hole which leads down into the Pit of Refuse. Falling through here is deadly. There are also hallways which lead east to the Lair of the Chosen, west to the Sanctum of the Fallen God, and south to the Chamber of the Dreamer. The six ledges above can only be accessed through the Hall of the Cursed, which is reached by going up the stairs from the instance portal room's central-left or central-right exits.
Ad blocker interference detected!
Wikia is a free-to-use site that makes money from advertising. We have a modified experience for viewers using ad blockers

Wikia is not accessible if you've made further modifications. Remove the custom ad blocker rule(s) and the page will load as expected.