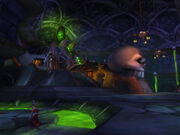 Magic Quarter is located in the northeastern parts of the Undercity. This is where the most arcane-inclined of the Forsaken come to research, learn new spells, and practice their arts, under the watchful eye of Bethor Iceshard.
Facilities:
The Magic Quarter contains a Temple of the Damned.[1] (LoC 107)[2] (WoWman 189)
Ad blocker interference detected!
Wikia is a free-to-use site that makes money from advertising. We have a modified experience for viewers using ad blockers

Wikia is not accessible if you've made further modifications. Remove the custom ad blocker rule(s) and the page will load as expected.