The Lobotomizer

Item Level

65

Speed 1.80
59 - 111 Damage
(47.2 damage per second)
Durability 75 / 75
Requires level 60
Chance on hit: Wounds the target for 200 to 300 damage and lowers Intellect of target by 25 for 30 sec.
Vendor 10000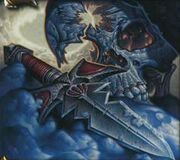 The Lobotomizer is a one-handed dagger with a damage proc leaving a lowering intellect debuff.
The dagger is sold to players by their respective Alterac Valley faction by:
Patch changes
Edit
Patch 1.7.0

(13-Sep-2005): The Lobotomizer's proc name has been changed to "Brain Damage".


Patch 1.5.0

(2005-06-07): Added.

External links
Edit
Ad blocker interference detected!
Wikia is a free-to-use site that makes money from advertising. We have a modified experience for viewers using ad blockers

Wikia is not accessible if you've made further modifications. Remove the custom ad blocker rule(s) and the page will load as expected.