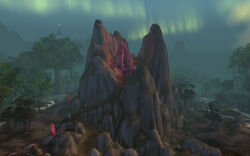 The Lifeblood Pillar is located in Sholazar Basin and is used to protect the area from the undead Scourge. However, it has recently fallen due to the Cult of the Damned, thus granting the undead access to the Basin. The Avatar of Freya holds them at bay, though much of the land has been lost — now being called the Lost Lands.
The top half of the pillar can now be found as The Sundered Shard nearby.
Ad blocker interference detected!
Wikia is a free-to-use site that makes money from advertising. We have a modified experience for viewers using ad blockers

Wikia is not accessible if you've made further modifications. Remove the custom ad blocker rule(s) and the page will load as expected.