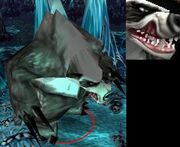 The Largest Panda Ever is a Pandaren which can be encountered in the Brothers in Blood mission of Warcraft III: Reign of Chaos in Eternity's End campaign. He drops a Necklace of Spell Immunity when killed. This item is VERY useful in the last mission.
Statistics of The Largest Panda Ever from Warcraft IIIEdit

This section concerns content exclusive to Warcraft III.
From Warcraft III: Reign of Chaos
Level 10
2250 HP
500 MP
60-90 normal melee damage
3 armor heavy
Abilities

Spell Immunity (cannot use spells on him, impervious to magic damage)
Upon seeing The Largest Panda Ever Malfurion Stormrage remarks "Our sins have returned to haunt us."
Ad blocker interference detected!
Wikia is a free-to-use site that makes money from advertising. We have a modified experience for viewers using ad blockers

Wikia is not accessible if you've made further modifications. Remove the custom ad blocker rule(s) and the page will load as expected.