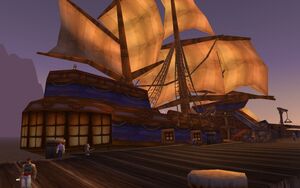 The Lady Mehley is a human crewed vessel that allows transportation between Menethil Harbor and Theramore.
Schedule
Edit
Menethil Harbor to Theramore: 55 seconds
Theramore to Menethil Harbor: 55 seconds
Dock time: 1 minute
Round trip: 3 minutes 50 seconds
These times are not precise, as there is a loading screen as you travel between continents that will obviously depend both on your computer hardware and your network speed. As of 12/13/2017, a trip - bell to bell - from Theramore to Menethil took only 39 seconds on a high quality system.
Was named after Blizzard Dev "Stash" Torgoley's daughter.
Patches and hotfixes
Edit

/

Patch 3.0.2 (14-Oct-2008): The crew has returned.


 Hotfix (2007-12-06): Crew removed, due to problems.


Patch 2.3.0 (13-Nov-2007): A crew was added.

Ad blocker interference detected!
Wikia is a free-to-use site that makes money from advertising. We have a modified experience for viewers using ad blockers

Wikia is not accessible if you've made further modifications. Remove the custom ad blocker rule(s) and the page will load as expected.