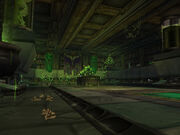 The Laboratory is located deep within Scholomance. It is accessed from the Viewing Room via the southern doorway. The laboratory itself is a dead end, but it is the location of one of the game's very few Alchemy Labs. Besides a few necromancers, it also contains the lich Ras Frostwhisper, and potentially the fierce Kormok for the Dungeon Set 2 questline.
Ad blocker interference detected!
Wikia is a free-to-use site that makes money from advertising. We have a modified experience for viewers using ad blockers

Wikia is not accessible if you've made further modifications. Remove the custom ad blocker rule(s) and the page will load as expected.