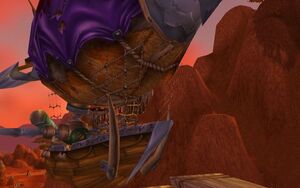 The Iron Eagle is a zeppelin, with a goblin crew and orc guards, which runs between the tower[53, 53] on the plateau (just north of the flight master) in the center of Orgrimmar (before

Cataclysm there used to be a docking tower outside Orgrimmar in Durotar)[citation needed] and within Grom'gol Base Camp in Stranglethorn Vale. The Captain claims it used to be a warship "whose mere sight make armies rout" but the crew remains doubtful of this fact.
Inspiration
Edit
The name might be a reference to the Iron Eagle films.
Patches and hotfixes
Edit

/

Patch 3.0.2 (14-Oct-2008): The crew has returned.


 Hotfix (2007-12-06): Crew removed, due to problems.


Patch 2.3.0 (13-Nov-2007): A crew was added.

Ad blocker interference detected!
Wikia is a free-to-use site that makes money from advertising. We have a modified experience for viewers using ad blockers

Wikia is not accessible if you've made further modifications. Remove the custom ad blocker rule(s) and the page will load as expected.