The subject of this article was removed from World of Warcraft in patch 3.2.0.

This includes items and quests that can no longer be obtained.
The in-game information in this article is kept purely for historical purposes and should probably not be under any other categories.
| | |
| --- | --- |
| | The subject of this article or section is part of Hallow's End, a seasonal event that lasts two weeks. Once the event has run its course, this will no longer be available until next year, but there are no guarantees. |

The Horseman's Helm

Item Level

110

1129 Armor
+40 Strength
+46 Stamina
Socket Bonus: +4 Strength
Durability 100 / 100
Requires level 70
Equip: Improves critical strike rating by 30.
Use: Let the Horseman laugh through you.
Cooldown: 30 sec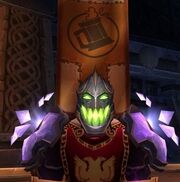 The Horseman's Helm is an epic plate head armor. This is the Headless Horseman's head gear. It has a natural fiery green armor glow. It seems to have a unique model.
This item drops from the Headless Horseman in Scarlet Monastery. It has a Very Low (3% - 14%) Drop Chance.
Macro Fun
Edit
A fun Macro that makes use of the "USE" function of the helm. Right-click to equipt (if needed) left-click to activate.
#showtooltip The Horseman's Helm
/equip [btn:2] The Horseman's Helm
/stopmacro [btn:2]
/y Haa ha ha ha ha ha ha ha haaaa!
/use The Horseman's Helm

This item was replaced with [The Horseman's Horrific Helm] in 2009 when the Headless Horseman was increased to level 80.
External links
Edit