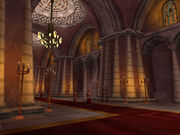 The Hall of Lights is located inside the Scarlet Bastion, and is the main thoroughfare of the building. It leads down past a locked door to the Hoard, and in a seperate direction on to the Crimson Throne.
Malor the Zealous, the Crimson Hammersmith, and Archivist Galford can all be found in chambers ajoining the hall, which is heavily patrolled by the Crimson Legion.
Ad blocker interference detected!
Wikia is a free-to-use site that makes money from advertising. We have a modified experience for viewers using ad blockers

Wikia is not accessible if you've made further modifications. Remove the custom ad blocker rule(s) and the page will load as expected.