The Goblin Lisa

"It's a likeness of Gallywix's late mother. Bless her soul."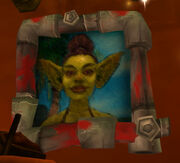 Objective of
Edit
This item is needed for the quest

 [4] Waltz Right In, given by Slinky Sharpshiv outside the KTC Headquarters in Kezan. It can be found in the western building[13, 35.2] at Gallywix's Villa.
The Goblin Lisa is a reference to the famous painting, the Mona Lisa.
Patch changes
Edit
External links
Edit