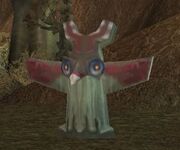 The Fourth Prophecy can be found in Grishnath of Blade's Edge Mountains. [40.2, 23]
When approached:
The Voice of the Raven God whispers: The raven was struck down once for flying too high, unready. The eons have prepared the Dark Watcher for its ascent, to draw the dark cloak across the horizon.
Objective of
Edit
Provides the fourth prophecy for the quest

 [68] Whispers of the Raven God.
External links
Edit
Ad blocker interference detected!
Wikia is a free-to-use site that makes money from advertising. We have a modified experience for viewers using ad blockers

Wikia is not accessible if you've made further modifications. Remove the custom ad blocker rule(s) and the page will load as expected.