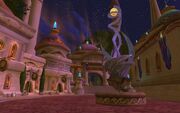 The Eventide is a district of southern Dalaran. It is also the location of the Dalaran Merchants' Bank and fountain, the latter which contains lucky coins thrown into the fountain by some of Azeroth's more influental figures.
Transmitter to the Titans?
Edit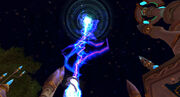 Upon defeating Algalon the Observer in Ulduar and bringing

 [Reply-Code Alpha] to Rhonin in the Violet Citadel, the floating sculpture in the Eventide is used to transmit the code - signalling that all is well on Azeroth - to the Titans.