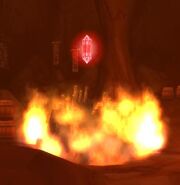 This is the object called "The Demon Seed", see

[

Demon Seed

]

for the quest item.
The Demon Seed can be found in The Barrens.[47.0, 19.0]
Background
Edit
The Demon Seed is a powerful tool for the Burning Legion, guarded by Rathorian. It rests in a cave on Dreadmist Peak, above a demonic altar of fire. The Burning Blade rallies around this relic. For reasons unknown, Neeru Fireblade wishes to destroy this artifact, although it is a valuable asset of the Shadow Council.
Objective of
Edit
Destroying this item is the objective for the quest

 [14] The Demon Seed.
External links
Edit
Ad blocker interference detected!
Wikia is a free-to-use site that makes money from advertising. We have a modified experience for viewers using ad blockers

Wikia is not accessible if you've made further modifications. Remove the custom ad blocker rule(s) and the page will load as expected.