The Death of Hellscream is the final cinematic of the orc campaign The Invasion of Kalimdor. It features Grom Hellscream and Thrall facing off against Mannoroth.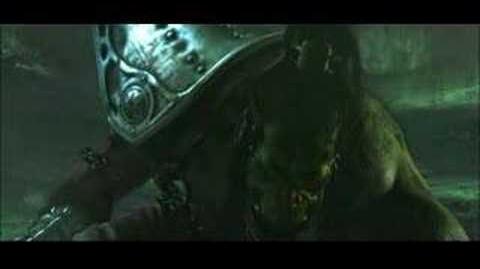 Grom and Thrall enter a canyon, searching for Mannoroth. The demon laughs at them.
Thrall roars and throws the Doomhammer at Mannoroth, who blocks it with his wing.
Mannoroth charges and strikes the ground with his weapon. Thrall is thrown into a rock face and knocked unconscious. Grom is knocked down, but he reaches for Gorehowl and gets back on his feet.
Grom roars and charges Mannoroth, burying his axe in the demon's chest. Mannoroth explodes, and Hellscream is badly injured by the blast.
Thrall roars.
Ad blocker interference detected!
Wikia is a free-to-use site that makes money from advertising. We have a modified experience for viewers using ad blockers

Wikia is not accessible if you've made further modifications. Remove the custom ad blocker rule(s) and the page will load as expected.