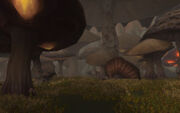 The Dead Mire is a large dead area in northeastern Zangarmarsh. The area was once a lake that served as a spawning ground for the fungal giants. However, it has been almost completely drained by the naga of Coilfang Reservoir using a huge pump. The remaining wildlife has become twisted and withered, crazed for lack of sustenance.
The Withered Giants of the area drop [Withered Basidium], which starts the quests Withered Basidium (Alliance) and Withered Basidium (Horde).
Ad blocker interference detected!
Wikia is a free-to-use site that makes money from advertising. We have a modified experience for viewers using ad blockers

Wikia is not accessible if you've made further modifications. Remove the custom ad blocker rule(s) and the page will load as expected.