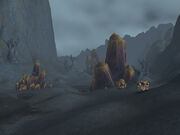 The Crystal Vale is a valley in the far northwestern corner of Silithus. It is populated by earth and air elementals, and is a popular location for farming too. It is also the location of the final battle in the Thunderfury quest chain, with Thunderaan. If you use Cartographer, check out these coordinates: 23,15. One quest in the area is "The Twilight Mystery."
Ad blocker interference detected!
Wikia is a free-to-use site that makes money from advertising. We have a modified experience for viewers using ad blockers

Wikia is not accessible if you've made further modifications. Remove the custom ad blocker rule(s) and the page will load as expected.