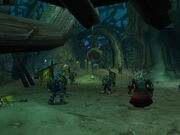 The Caller's Chamber is located inside Razorfen Downs, and is where the first boss of the dungeon (assuming the party heads left at the first fork), Tuten'kash, can be summoned using a gong. It lies past the chamber where Belnistrasz's quest

 [37] Scourge of the Downs ends, and leads through winding passages to the Murder Pens and the Bone Pile.
Ad blocker interference detected!
Wikia is a free-to-use site that makes money from advertising. We have a modified experience for viewers using ad blockers

Wikia is not accessible if you've made further modifications. Remove the custom ad blocker rule(s) and the page will load as expected.