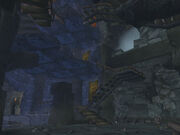 The Broken Stair in Karazhan is the winding, partially destroyed stairwell that winds along the outer edge of the tower, ascending up to the Menagerie. The tower wall has some gaping holes which allow a view of Deadwind Pass below.
Ad blocker interference detected!
Wikia is a free-to-use site that makes money from advertising. We have a modified experience for viewers using ad blockers

Wikia is not accessible if you've made further modifications. Remove the custom ad blocker rule(s) and the page will load as expected.