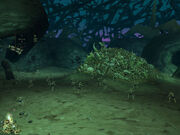 The Bone Pile is located deep inside Razorfen Downs, and is where the dungeon's most memorable scene takes place. Mordresh Fire Eye stands atop a huge pile of bones and yells Scourge propaganda to a crowd of cheering and dancing skeletons, accompanied by crazed, spooky music.
The Bone Pile lies beyond the Caller's Chamber, and just across a small bridge from the Murder Pens. Access to the Spiral of Thorns is at the southwestern corner of the chamber.
Ad blocker interference detected!
Wikia is a free-to-use site that makes money from advertising. We have a modified experience for viewers using ad blockers

Wikia is not accessible if you've made further modifications. Remove the custom ad blocker rule(s) and the page will load as expected.