104,289pages on
this wiki
Talk

0
Bastion of Twilight is an entry-level raid instance introduced in World of Warcraft: Cataclysm. It features five bosses plus one optional heroic boss.[1][2]
The Bastion of Twilight, along with Throne of the Four Winds and Blackwing Descent, is meant to be the "Naxxramas" of Cataclysm: an entry level raiding.[1][2][3]
The instance entrance is located on top of the Twilight Citadel spire at [34, 78] in southwestern Twilight Highlands overlooking Loch Modan.
Encounters
Edit
Upon defeating Cho'gall on heroic mode, the floor beneath players will collapse and they will fall into a cavern of flowing lava and "a very large number of black [sic] dragon eggs" that hides a "horrifying secret".[1][2][4][5]
Geography
Edit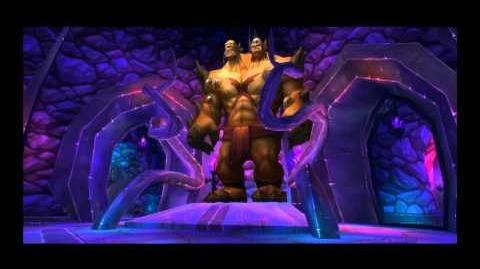 References
Edit
External links
Edit
WoW Official Game Site (US)
The Bastion of Twilight

WoW Official Game Site (EU)
The Bastion of Twilight
Guides

25man.com
Bastion of Twilight Tactics & Strategy Guide
Icy Veins
Comprehensive encounter guides for Bastion of Twilight

LearnToRaid.com
Video Strategy Guides
News
WoW Insider
Tier 11 normal mode raid bosses to give valor points again
by Daniel Whitcomb Jul 18th 2011 at 11:00PM