For the epic bow, see Avalanche.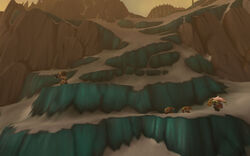 The Avalanche is an area in northeastern Sholazar Basin that is overflowing with Scourge forces and is the point of entry for The Lich King's invasion of the zone. This seems to have occured due to a nearby Titan pylon — Titan pylons scattered throughout Sholazar Basin were created in order to protect the land — collapsing.
The quest Reconnaissance Flight requires players to accompany Pilot Vic to scout the area. The Avatar of Freya asks players in the quest Reclamation to destroy the overlords leading the invasion, and will reward handsomely.
Ad blocker interference detected!
Wikia is a free-to-use site that makes money from advertising. We have a modified experience for viewers using ad blockers

Wikia is not accessible if you've made further modifications. Remove the custom ad blocker rule(s) and the page will load as expected.