Ad blocker interference detected!
Wikia is a free-to-use site that makes money from advertising. We have a modified experience for viewers using ad blockers

Wikia is not accessible if you've made further modifications. Remove the custom ad blocker rule(s) and the page will load as expected.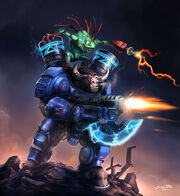 Terran Up the Night is the fourth song by Level 80 Elite Tauren Chieftain, which made its live debut on August 4, 2007 at the year's annual BlizzCon. It was written about the glorification of the terran race, of the StarCraft universe. To promote the song, Blizzard art director and L80ETC vocalist Samwise Didier created concept art for the fictional tauren marine StarCraft unit, which depicted the tauren seen in the band's logo, refitted with a terran marine's uniform. T-shirts featuring this tauren marine, along with lyrics from the chorus of Terran Up the Night ("Not protossin', not zergin', / I'm terran up the night!") were also sold at the event. The words "Udder Chaos" can also be seen in the tauren marine concept art, possibly hinting that this song "appears" on Level 80 Elite Tauren Chieftain's fictional 2007 album, Udder Chaos.
The studio version of the song appears in Starcraft II: Wings of Liberty, both as a jukebox track and during the ending credits.
"Terran Up the Night"


The smell of rusty metal, dead zerg and napalm,
The sound of friggin' laser beams and Gatling guns.
Strapped into powered armor,
Got the ladies always looking at me,
They can't believe the size of my over-engineered codpiece.

Well, I'm a convict
In a siege tank I ride
Not protossin', not zergin',
No, I'm terran up the night!
Terran up the night!
Terran up the night!
Terran up the night! Alright!

Don't want no shiny protoss flying machines
Rather have a clunky, funky, rusty SCV.
Strap yourselves in girls,
We're gonna soar across the stars
'Cause when you've got a battlecruiser,
Hell, who needs a car?

Well, I'm a convict
In a siege tank I ride
Not protossin', not zergin',
No, I'm terran up the night!
Terran up the night!
Terran up the night!
Terran up the night! That's Right!
[Hell yeah]

You come in peace, well I come in war
I'm counting corpses, I ain't counting score
When the protoss charge and the zerg start to swarm,
Don't want no Zeus, I want my Thor!


We've got our own transformer,
The rough and tough Viking.
He can fly, and doesn't cry like that little girl Starscream
Never served no King, no
Never served no Lord
But if we lived in Azeroth, honey
You know, we'd join the Horde! Yeah!

Well, I'm a convict
In a siege tank I ride
Not protossin', not zergin',
No, I'm terran up the night!
Terran up the night!
Terran up the night!
Terran up the night! That's right

Terran up the night!
Terran up the night!
Terran up the night! All night
Cultural references
Edit
External links
Edit

YouTube
Worldwide Invitational 2008 performance
free download (http://gosong.net/download/kou5_uj0dR4/L80ETC_-_Terran_Up_The.html)