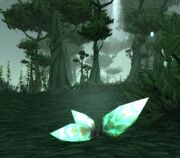 Terocone is a Herb that can be gathered by Herbalists.
Terocone can be gathered from nodes in Terokkar Forest, Arakkoa-based areas in Shadowmoon Valley, and occasionally from harvesting the corpses of fungal giants in Zangarmarsh. Terocone nodes are typically found underneath trees. Requires 325 Herbalism to gather.
Terocone as an Ingredient
Edit
Terocone is used in the following recipes:
Gathering a Terocone will occasionally yield Mote of Life in addition to the herb.
Terocone generally sells quite well, mostly likely because it is primarily found in only one region of the Outland, as opposed to Felweed and Dreaming Glory, which are found in almost all zones.
External links
Edit

Terocone Farming - OmgNab.com
Herbalism herbs
Seeds
Apprentice
Journeyman
Expert
Artisan
Master
Grand Master
Illustrious Grand Master
Zen Master
Draenor Master
Fel? Master
† Added with
Ad blocker interference detected!
Wikia is a free-to-use site that makes money from advertising. We have a modified experience for viewers using ad blockers

Wikia is not accessible if you've made further modifications. Remove the custom ad blocker rule(s) and the page will load as expected.