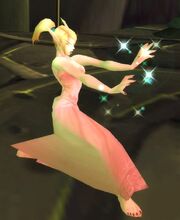 "Business… or pleasure?" [1] (

TCGBT 42

)
Temple Concubine can be found in Black Temple.
Abilities
Edit
Love Tap (Physical) - Playfully strikes the target, dealing 2313 to 2687 damage and stunning them for 4 sec.
Polymorph (Arcane) - Transforms an enemy into a sheep, forcing it to wander around for up to 15 sec. While wandering, the sheep cannot attack or cast spells. Any damage will transform the target back into its normal form. Only one target can be polymorphed at a time. Only works on beasts, dragons, giants, humanoids, and critters.
External links
Edit
Ad blocker interference detected!
Wikia is a free-to-use site that makes money from advertising. We have a modified experience for viewers using ad blockers

Wikia is not accessible if you've made further modifications. Remove the custom ad blocker rule(s) and the page will load as expected.