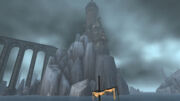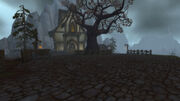 Tempest's Reach[78.2, 72] is a small enclave within a mountain ridge in Gilneas, surrounded by farmsteads. Vincent Godfrey has convinced two Gilnean lords to follow his plan to hand over Genn Greymane to the Forsaken. Greymane is their captive until players arrive to defeat the nobles and free him.
Inhabitants
Edit
Bridge before Tempest's Reach[72.8, 80.3]
Greymane's imprisonment area[78.2, 72]
Lighthouse[85.6, 73.8]
Walden's building[79.2, 65.4]
Throughout all areas
After all the quests are completed for Tempest's Reach, the mobs turn

friendly

, so long as you remain in the Reach.
Patch changes
Edit
External links
Edit
Ad blocker interference detected!
Wikia is a free-to-use site that makes money from advertising. We have a modified experience for viewers using ad blockers

Wikia is not accessible if you've made further modifications. Remove the custom ad blocker rule(s) and the page will load as expected.