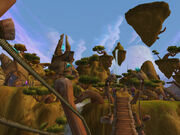 Telaar is the Kurenai-factioned Alliance town in southern Nagrand. The flight point is at 54,75, on top of the inn. It is accessed via exterior ramps on either side of the building.
Telaar is full of draenei, both of normal and Broken versions. There are plenty of quests to be had, goods to be bought, and things to see. Telaar is also one of the only intact examples of undamaged Draenei architecture in all of what is left of Draenor. The Kurenai quartermaster is here, as is a stable master and a mailbox, in addition to the flight master and inn mentioned above.
Travel Connections
Edit
Telaar NPCs
Edit
Quest Givers
Edit
Quests are also available from the Telaar Bulletin Board, next to Warden Moi'bff Jill.
Flightpaths
Edit
Players can fly from here to:
Ad blocker interference detected!
Wikia is a free-to-use site that makes money from advertising. We have a modified experience for viewers using ad blockers

Wikia is not accessible if you've made further modifications. Remove the custom ad blocker rule(s) and the page will load as expected.