The cords for this are completely wrong. The real ones are (67.5 x 32.1) —The preceding unsigned comment was added by Phearis1 (talk • contr).
So fix it! Don't forget to sign your posts on talk pages by using four tildes too.
Cataclysm
Edit
I was just there, his den is definitely not flooded and he is standing right at the entrance. Deleting that portion of the speculation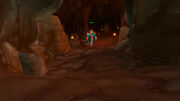 --
Bsweany
(
talk
) 03:13, November 17, 2010 (UTC)
Ad blocker interference detected!
Wikia is a free-to-use site that makes money from advertising. We have a modified experience for viewers using ad blockers

Wikia is not accessible if you've made further modifications. Remove the custom ad blocker rule(s) and the page will load as expected.