I've always wondered if this is Warcraft's version of a beholder. --Baggins 09:31, 12 May 2006 (EDT)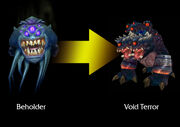 Void terrors may have a connection to Floating eyes as Socrethar hints that Culuthas summoned both many-eyed demons the same way.--SWM2448 02:23, 14 January 2008 (UTC)
Vor is the "Void Hound of Shaffar". Doesn't that mean these guys are called Void Hounds instead of Void Terrors?
Xavius, the Satyr Lord 14:34, January 27, 2010 (UTC)
Looks like a D&D Beholder to me. But then again, D&D is the basis for most modern fantasy RPGs. BobNamataki (talk) 00:54, March 23, 2010 (UTC)
Ad blocker interference detected!
Wikia is a free-to-use site that makes money from advertising. We have a modified experience for viewers using ad blockers

Wikia is not accessible if you've made further modifications. Remove the custom ad blocker rule(s) and the page will load as expected.