Zepplin Tower
Edit
Where does the zepplin to here fly out of? --Xmuskrat 05:12, 13 August 2007 (UTC)
Kirkburn's Picture - What On Earth Is THAT?
Edit
I see there's been a new pic added courtesy of our favorite bureaucrat...and I'm looking at it like "What the..."
What is that thing next to the tower? Some kind of giant Tesla coil? (Maybe it's the Apothecarium lab where they're storing their New Plague?) --Joshmaul 20:05, 13 September 2007 (UTC)
Connection to New Agamand?
Edit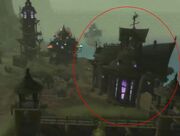 I watched the video again, and saw what I could swear was the town hall-like building in New Agamand. Could the zeppelin tower be set basically right on the outskirts of the town, like the Orgrimmar and UC ones? (Though to me, it looks almost borderline inside the town limits itself, like Grom'Gol's...) --Joshmaul 12:43, 25 September 2007 (UTC)
Masgister Varenthas - Neutral?
Edit
I just looked at the NPC's present in Vengeance Landing and saw that one of them is neutral, Masgister Varenthas. Is this true, and if so why? Mathwhiz90601 (talk) 03:02, 21 July 2009 (UTC)