Twilight Highlands Concept Map
Edit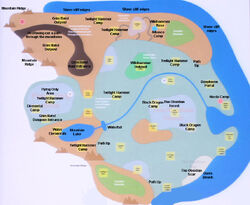 I was able to make out quite a bit of the Twilight Highlands but many areas I just could not make out. Leviathon (talk) 21:07, 25 August 2009 (UTC)
Having problems adding this is picture?
Edit
can someone help me????Almasa (talk) 03:08, April 1, 2010 (UTC)
Well...tell me if i should put this in or not....its a contcept piece from blizzcon...Almasa (talk) 03:15, April 1, 2010 (UTC)
When blizzard was going over the zones they went over each one seperatly as well as their concept art and twilight highlands was the last one they did so yeah...its a twilight highlands piece for sure...Almasa (talk) 03:42, April 1, 2010 (UTC)
The most recent screenshot of the day is of twilight highlands. Add it. Almasa (talk) 16:09, June 25, 2010 (UTC)
The Spire
Edit
As I was flying near the borders of Loch Modan, in one place I was able to switch zones to Twilight Highlands near the thing called on the pic as "Mysterious Spire". The area is called "Twilight Citadel", and on the top there is an empty portal and a meeting stone. Maybe it will be entrance to Skywall? Morpheius 16:20, July 26, 2010 (UTC)
Interior Screenshots
Edit
As far as I know this zone isn't available for testing on beta. Somehow people are sneaking into the zone, taking screenshots, and uploading to this page. With regards the upload policy, doesn't this go against this: "Pictures of unannounced content (i.e. content not released by Blizzard) are again not allowed." Twilight Highlands is technically considered unannounced content. Korval (talk) 03:32, July 28, 2010 (UTC)
Sarlacc in WoW
Edit
I don't know whether it is important or not. But I saw a creature on a video of the Twilight Highlands which looks really similar to the Sarlacc of Star Wars VI. Some people speculate that this is another Old God, but I think it's just a mighty creature with lifed there or is created by the Twilights. What do you think? --Numisel (talk) 11:53, August 3, 2010 (UTC)
Twilight Highlands open
Edit
While Twilight Highlands is not open for testing, the invisible walls have now been removed. I'm going to revert changes that previously was covered by DNP. --User:Gourra/Sig2 09:18, August 21, 2010 (UTC)
Ad blocker interference detected!
Wikia is a free-to-use site that makes money from advertising. We have a modified experience for viewers using ad blockers

Wikia is not accessible if you've made further modifications. Remove the custom ad blocker rule(s) and the page will load as expected.