Speculation
Edit
I dont know if I agree with what is there now. My idea is that this has to do with the original Armani empire. The doors are closed and covered by webs, and it is much, much closer to Silvermoon, so it would be understandable that it would have been eradicated. Atleast, thats my opinion. Also, if you look between the cracks of the wall, you can see a green raid portal.
It was not removed
Edit
Technically, the Tor' Watha fortress was never removed from game. It is still on the same place as it was before Cataclysm, but it has been moved deep underground, so nobody can see it.
Screenshot from WoD: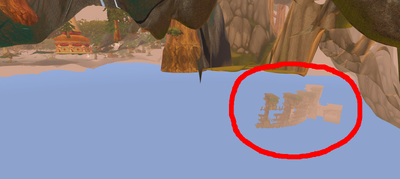 Ad blocker interference detected!
Wikia is a free-to-use site that makes money from advertising. We have a modified experience for viewers using ad blockers

Wikia is not accessible if you've made further modifications. Remove the custom ad blocker rule(s) and the page will load as expected.