There's no "The" in the name. It's simply called
Temple of Earth
.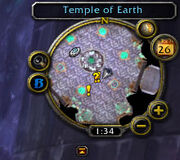 Korval
(
talk
) 08:35, July 26, 2010 (UTC)
You are correct but starting the sentence as The Temple of Earth makes the sentence flow more smoothly and we only have the name of the article within the ' ' ' ' ' '(remove all but the middle space) so as long we keep the out of it, there should be no real issue. --Sairez (talk) 08:44, July 26, 2010 (UTC)
Ad blocker interference detected!
Wikia is a free-to-use site that makes money from advertising. We have a modified experience for viewers using ad blockers

Wikia is not accessible if you've made further modifications. Remove the custom ad blocker rule(s) and the page will load as expected.