User:Makaie : Ok.. so, Trolls are Jamaican, and you call there king Rastakhan?
Trolls are what Blizzard wants them to be. Xavius, the Satyr Lord 20:04, 11 February 2008 (UTC)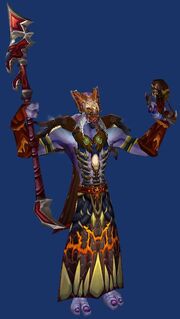 Forest Troll
Edit
Why is the pic of him in the character box of a forest troll?  

Mr.X8 Talk Contribs 18:01, 1 August 2008 (UTC)
Why did this guy add a model viewer pic, he removed the npcbox. Hallowseve15 (talk) 20:17, May 19, 2010 (UTC)
Ad blocker interference detected!
Wikia is a free-to-use site that makes money from advertising. We have a modified experience for viewers using ad blockers

Wikia is not accessible if you've made further modifications. Remove the custom ad blocker rule(s) and the page will load as expected.