Ad blocker interference detected!
Wikia is a free-to-use site that makes money from advertising. We have a modified experience for viewers using ad blockers

Wikia is not accessible if you've made further modifications. Remove the custom ad blocker rule(s) and the page will load as expected.
I wish mages were able to summon these in WoW. The Phoenix isn't a whole lot more powerful than a Doomguard I would guess so I don't think it would cause any type of imbalance between classes, particularly since the Phoenix might turn into a harmless egg after a minute or two as it did in TFT.--
Illidan Rocks
11:01, 1 June 2006 (EDT)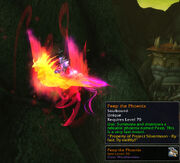 Further proof that it is a mount, as near the beginning the guy is flying it. Looks sick. gamerxl
The (unarmored) nether drake will be obtained through a quest (which is planned to be implemented in a future patch) and will be a 280% speed flying mount.
This nether drake is intended to supply players with a cool new epic mount and won't require any tasks within raid encounters. It's a reward that all players can
work towards, but it will still be difficult to obtain.
There is another mount that is 310% speed that is yet undiscovered which is intended to be an equally rare and difficult to obtain equivalent to the arena reward.
That's the only information we're able to give at this time.

More information
Edit
Eyonix, on May 1st, 2007, stated, "The phoenix mount is a rare drop, currently in-game." [1] This implies it is in the game as of build 2.0.10, not the 2.1.0 Public Test Realm. As far as who drops it, the only mobs that are available on live servers and have not been farmed to great length are those in Serpentshrine Cavern (though they are quickly becoming available) and The Eye, so it stands to reason that it likely drops within one of those 25-man raid dungeons. Given the nature of the drop, I'd guess it's the latter. -Vaerik 23:36, 1 May 2007 (EDT)
Phoenix Pet
Edit
Is there any notice about the new vanity-pet Phoenix? I'm having trouble finding from what promo it can be get.
Ravenore , the Necroshadowmancer 03:38, 26 March 2008 (UTC)