WorldOfWar.net full map
Edit
Was viewing WorldOfWar.net's E3 coverage. In a few frames they look at the world map. Noticed a few changes:
A new bump below Silithis, New jut out west of Stonetalon, the two islands west of Booty Bay seem missing, scale of map seems smaller now.
--Xmuskrat 16:45, 10 May 2006 (EDT)
Good Catch
Edit
erm, there was 2 times the same map
Okay. Good catch. -- AlexanderYoshi
The external link at the Blackwing Lair "map" is not working anymore? -- Sanderu
Regional and City -- Kalimdor Regions
Edit
I can't get the layout of this thing! It's not in alphabeticly order, nor in map order (top to bottom or vice versa). Just confusing for me anyway, bunch of names with different backgrounds that has no legend to it.
instance maps
Edit
http://www.atlasmod.com/ CJ 09:40, 31 Jan 2006 (EST)
What are the colors of the maps for? Is there a reason for the different background colors? If so, please put a legend. Paralax 15:57, 11 July 2006 (EDT)
Maps of before the 3rd war
Edit
This realy pisses me off that I can't find a single map of Lorderon that dosnt have The Plaguelands or The Undercity. There is no Stratholme, Lorderon Capital city, or wherever the hell any place is on Lorderon that wasn't sacked. --The last Alterac 12:10, 7 October 2007 (UTC)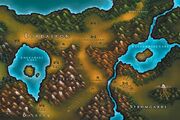 Nice map, I remember it was used in WC3, but where did you found it? I was looking for similar maps for a very long time. Fiorienn 11:21, 26 July 2008 (UTC)
Warlock's Map
Edit
Just a head's up if anyone cares, I've finally updated my map to be consistant with TBC :D Yay: http://www.scrollsoflore.com/warlock/worldmap.gif --WarlockSoL 03:37, 10 December 2007 (UTC)
Maps (lore)
Edit
I ran across World-of-Warcraft-map.jpg at gamerandy.com and was wondering if we should have a Maps (lore) page for non-WoW and historical Warcraft maps. --

 Fandyllic (talk · contr) 1:08 PM PST 9 Jan 2008
Flight Paths section
Edit
Looks like we need some new flightpath...paths.
The Alliance East is missing the new Rebel camp and ZA ones.
The Alliance West is missing Azuremyst and Bloodmyst Isles, and the Mudsprocket one.
The Horde East is missing all the BE ones and the ZA one.
The Horde West is missing the Mudsprocket one.
What mod is that being used, Atlas flightpaths? I'll see if I can get new images. User:Coobra/Sig2 04:56, 10 January 2008 (UTC)
Interactive map
Edit
How does the WoW Scribble map work? It says click it, then it loads, and then nothing happens. Rolandius

(talk - contr) 02:41, 2 August 2009 (UTC)
Ad blocker interference detected!
Wikia is a free-to-use site that makes money from advertising. We have a modified experience for viewers using ad blockers

Wikia is not accessible if you've made further modifications. Remove the custom ad blocker rule(s) and the page will load as expected.